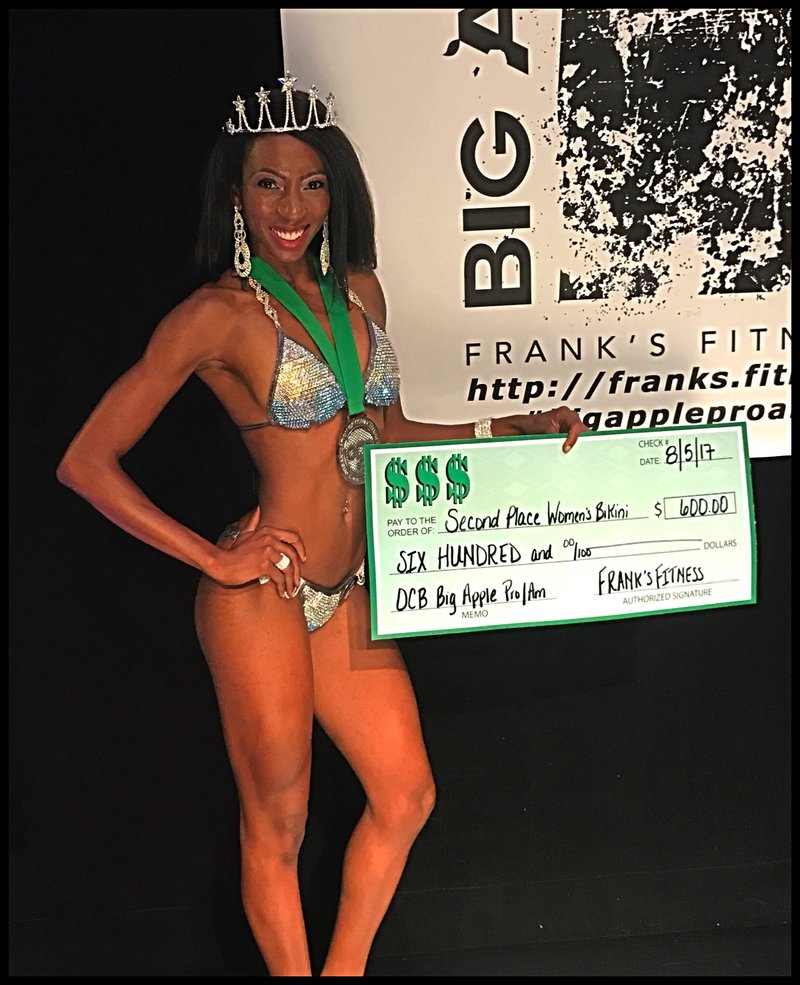 I never thought four years ago, this is where I would be. I started competing after having a terrible car accident where I suffered a Traumatic Brain Injury. Shortly after I would also undergo Lyme Disease treatment, and treatment for Depression. I was in a dark place taking up to14 pills a day, and I knew something had to give. I called my old trainer and we started over from scratch. I found a picture of a bikini competitor online and decided right then and there, that was going to be my goal. I've been blessed enough to hold and earn professional status in the OCB, NGA, ANBF, WNBF, IFPA . To date, I have competed in 16 shows, placing top 4 in every show, and 9 1st places!
Originally, I envisioned SIC to be a one stop shop for women competitors. Initially, I began selling competition jewelry to my team mates. I kept my eye on my goal and eventually expanded to Suits, Shoes, and Accessories. I found a woman who would become one of my mentors to teach me how to sew my own suits. I knew it was where my journey was taking me when I saw two suits I designed for other companies on athletes I knew and respected. What was so powerful about this was that she told me when she is gone, I will continue her legacy. It has taken lots of time and trials to get it just right, and I'm so proud of where we are now as a brand.
Over the last four years I have fallen in love with this sport. I have worked in all capacities when it comes to bodybuilding shows. I have test judged, expedited, hosted, set up, torn down, calculated judged scores, sponsored shows, competed, and promoted.
"I was smart enough to go through any door that opened." - Joan Rivers
In 2017, I promoted my first show "The Carolina Fitness Festival". The event which will continue annually is sanctioned by The Organization of Competitive Bodies (OCB). After helping other coaches and organizations with their clinics, and after numerous requests, it was time to invest that energy into my own brand and clients.
I began hosting posing clinics and one on one posing in the Greenville, North Carolina area.
Toward the end of the 2017, after 3 years of doing my own tanning and one on one tanning on friends, I began working with a fellow competitor offering show tanning services. Expansion has not been easy, but it has certainly been worth it.
As a competitor, I realize every little detail matters. I understand how hard you work to step on stage and it is an honor to be a part of so many people's journeys. I've been there with you, I get it! My passion is in entertaining on stage, in styling jewelry sets, sewing, bedazzling suits, my passion is in being an artist, in creating. If you choose to have me along your journey, you can be assured that your package will be sent with love. Your suit will be sewn by me, every crystal placed my me with your journey in mind. You can even find me at shows doing alterations on site regardless of who your suit is designed by.
I, like you am still a work in progress. My journey in life and on the stage is still evolving. I consider myself a forever student. I still struggle, but I am stronger because of what I have been through, and for the lessons I have learned.
"You are the one that possesses the keys to your being. You carry the passport to your own happiness." - Diane Von Furstenberg


SIC is a woman and veteran owned company.

"In order to be irreplaceable, one must always be different." - Coco Chanel
With L

ove, Shadonnae "Shar" Legree