Upcoming Tanning Events With Shar Legree and Ashley Fargo:
OCB Body Sculpting Open




OCB Colonial Open

OCB Carolina Fitness Festival 8/11 W/ Ashley & Marjorie

OCB Battle for Tidewater and OCB Military Championships

OCB Nashville Natural Classic 9/15

OCB Richmond Pro Am 12/1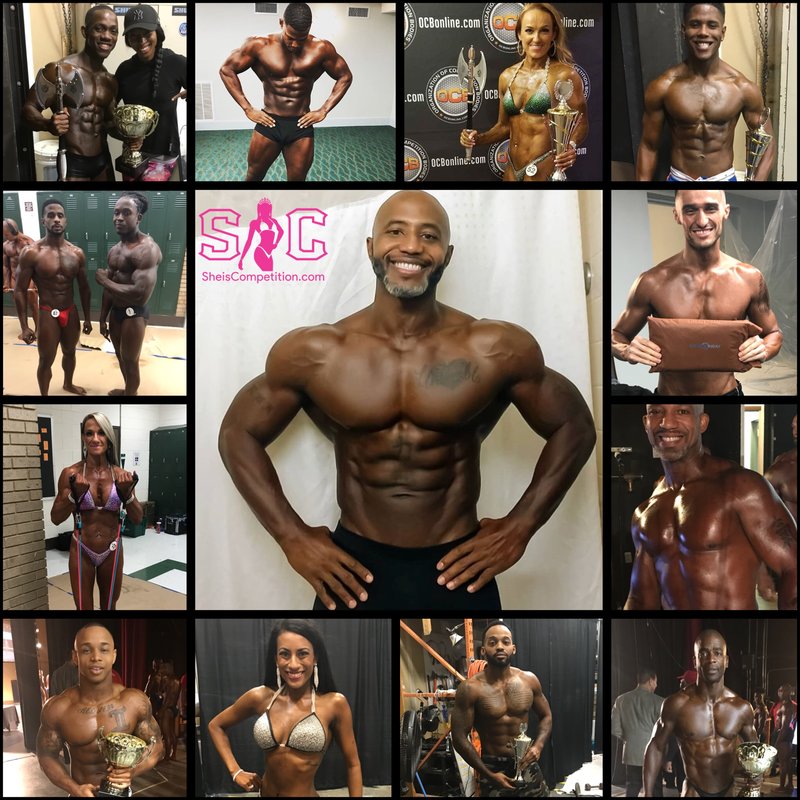 Tanning instructions
1Base if needed…..
If you have very pale skin, now is the time to consider whether or not you would like to begin using a self tanner. This is safer than using a tanning bed or tanning outdoors due to UV rays. Ensure that you apply it evenly! If you are using a tanning bed for tanning, one week out or sooner, you should cease tanning.
2 Exfoliate (sugar scrubs, gloves, brushes)
Smooth skin is essential to an even tan. Think about your tan as being a layer of paint going on your skin. Dead skin cells will be noticeable, so let's get rid of it. It is important to exfoliate beginning at lease one week prior to the show, the sooner the better.

3 Hair Removal (wax,shave,creams)

Of course all hair needs to be removed from the body so the skin has a nice, smooth look to it and all definition can be seen. Shaving, waxing or hair removal products can all be used. I STRONGLY RECOMMEND THAT IF YOU HAVE NEVER WAXED BEFORE DON'T WAIT UNTIL THE WEEK OF YOUR SHOW TO TRY IT! Now if you do…. Get a sugar wax. This is for people who are allergic or have some type of reaction to regular waxes. I'd rather you be safe than sorry.
The same thing goes for hair removal products. Make sure you experiment with them NOW by doing a spot test on an area of your skin. I suggest the thigh because it is the most (well almost the most) sensitive area of the skin. This is a great indicator for how your special parts may react.
Oftentimes you don't see some hair but once you apply the tan it shows. Common "fuzzy" areas are the glutes, lower & upper back and arms.
4 YOU Need to Protect your TAN!
The Tanning solution contains DHA which requires 6-8 hours to darken to the final color. DO NOT WEAR Fake Silk Pajamas; Sweat Pants or Shirts. If you paid less than $100 for the silk PJs, there is a good chance it's not real. An alternative is poly pro, or clothing from wear and away that is made specifically for tans. It is reusable, washable, and can be recycled. Also do not destroy the sheets at the hotel. They will charge you. Here are the options available to you:
· Tan robe (women) $19.99
· Tan Pants (unisex) $19.99
· Tan Shirt (men) $19.99
· Shenis (female pee device) $5
· Tan Stickies (these cover your nipples and v-jay) $5
· Male Shield $5
· COMBO Packs: Male $43 (all of the above for men) Women $45 (all of the above for women)
· Tan flip flops $5
Protective Sheets $22 or $20 with the combo set